Umesh Yadav, an Indian cricketer, praised India's new captain, Rohit Sharma. Yadav remarked that his decision-making talents are exceptional, and he understands how to manage a team effectively. After South Africa's 1-2 Test series setback in December-January, Rohit took command in all formats from Virat Kohli. India has yet to lose a match in any format since Rohit took over as full-time captain.
Yadav's Interview With TOI
Yadav gave an exclusive interview with The Times of India. Yadav discussed KKR's title possibilities this season, as well as Ajinkya Rahane's captaincy, which led India to their second Test series win in Australia. He also commented on India's poor performance in South Africa, new India skipper Rohit Sharma, and much more.
"Rohit is an excellent captain. He manages circumstances well, and his decision-making skills are exceptional. In an exclusive interview with TOI, Umesh said, "He understands his players and knows how to use them on the pitch."
Umesh recalled warmly the times he shared the captain's locker room with Kohli. "I have fond recollections of Virat Kohli," he said. The majority of his best performances for the Indian side came while Kohli was captain.
"Under his captaincy, we've won so many series. I've had a lot of fun playing with him, and we've come a long way together. As a captain, he is great," Umesh remarked.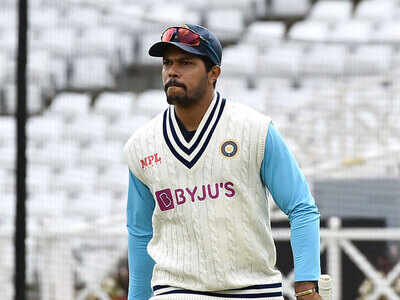 Umesh Yadav's Bumpy Career
Umesh Yadav, the Indian speedster, was last seen in an India jersey in limited-overs cricket in February 2019. In Visakhapatnam, he took part in the T201 match against Australia. He has only played Test cricket since then.
With the ICC T20 World Cup in Australia coming up at the end of the year, the 34-year-old fast bowler is ready to return to the Indian white-ball squads. Umesh has only played 7 T20ls in his career and has taken 9 wickets. He is currently looking at the next Indian Premier League (IPL) 2022 edition as a stepping stone to making it to the Indian limited-overs side. Umesh hasn't played an ODI since October of last year.
Umesh Yadav Puts On KKR Jersey This Time
This season, Umesh Yadav will play for the Kolkata Knight Riders, the two-time IPL champions. KKR paid Rs. 2 crore for the veteran bowler. Umesh was a member of the title-winning KKR squad in the 2014 edition of the IPL.
Umesh almost lost his IPL contract this season due to a lack of opportunities in white-ball cricket. So far in 121 IPL appearances, the 34-year-old from Nagpur has 119 wickets in his account. In the IPL 2022 player auction, however, he went unsold twice. Nonetheless, when the auctioneer called his name for the third time, KKR showed faith in the Indian pacer and paid his starting price.