Are you wondering what the color of the Gujarat Titans jersey is? The new franchise for the IPL season, Gujarat Titans revealed their Jersey for IPL 2022. Hence, the Indian Premier League (IPL) Mega Auction comes to an end, all the cricket lovers are excited to watch the 15th season of the league. However, this year two new franchises took part and one of the new teams, Gujarat Titans became talk among people. 
Indian Premier League New team: Gujarat Titans
The Franchise signed three players before the Auction began. They decided to provide an opportunity to Hardik Pandya, Former Indian Ace All-Rounder, for this league Hardik Pandya will guide the Gujarat Titans. The other two players who received the opportunity to be part before the auction took place, Rashid Khan and Shubhman Gill.
Unfortunately, The English Batter Jason Roy, who was supposed to be part of the Titans for the League, will not be able to perform. Further, The franchise replaced the batter with Afghanistan's Youngster Rahmanullah Gurbaz. Though, the team may face a drawback, as they do not have a middle-order batsman. The team is composed of All-Rounders. The players who will partner with Hardik, Vijay Shankar and Rahul Tewatia. The two players received the chance to get drafted as a side.
Furthermore, The lead spinner for the league, Rashid Khan as he earned the title of the World's Best Bowler. Hence, The name of two quality supporters for Rashid Khan, Noor Ahmad and Sai Kishore. In pace bowling, With setting a record price, Lockie Ferguson got signed for season 15. Moreover, the team consists of one more pace, Mohammad Shami.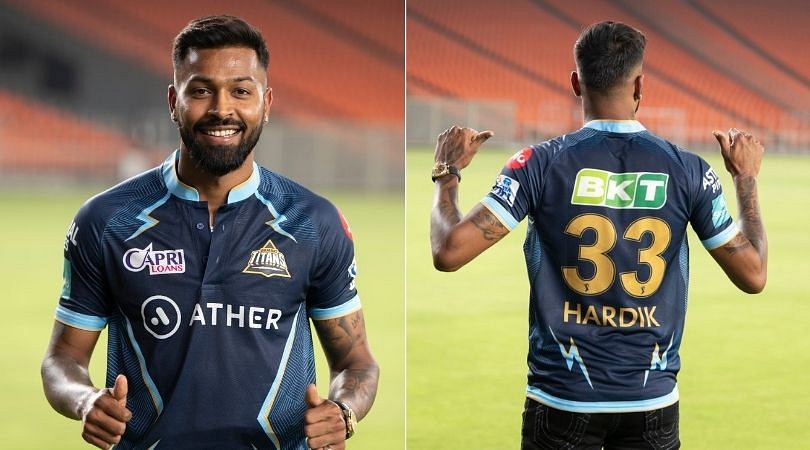 Gujarat Titans Jersey: Colour
The Gujarat Titans fall under command of CVC Capitals, as they owned the team. Further, The Titans decided to go all-blue for the 15th edition of Indian Premier League (IPL). Indeed, The honor to reveal the Jersey for the upcoming League received by the Captain, Hardik Pandya. He revealed the jersey in Narendra Modi Stadium. The jersey consists of different shades of blue. The jersey of Gujarat Titans looks Identical to the jersey of Barbados Royals Side, Caribbean Premier League.
Wondering What does Ather means? The label 'Ather' over Gujarat Titans Jersey is the official sponsor of the team. Ather is an Indian company which deals in Electric Vehicles. So far, they manufactured two electric scooters: the Ather 450X and the Ather 450 plus. They also set up the Ather Grind, it is an electric vehicle charging infrastructure. The Ather Built the Ather Grind across the country.
Gujarat Titans will begin their Indian Premier League 2022 campaign. They will launch a campaign against Lucknow SuperGiants. The Campaign will take place in Wankhede Stadium situated in Mumbai on 28th March.
EndNote:
Gujarat Titans decided to go with an all-blue jersey for the League. The Indian Premier League is about to begin, let's see how they will perform this season. The team falls under Group B.