Yesterday, 47th Match of the league took place, Kolkata Knight Riders vs Rajasthan Royals. The match took place in the evening on the ground of Wankhede Stadium. Kolkata Knight Riders accomplish another win of the league. Unfortunately, Rajasthan Royals face another defeat in a row. Kolkata Knight Riders acquired victory by 7 wickets with 5 balls to spare in the last over. 
Match Overview: Kolkata Knight Riders Vs Rajasthan Royals
The match began in the evening, As the team came on grounds and a toss took place. The toss outcome came in favor of Kolkata Knight Riders and they opted for fielding primarily. Further, Rajasthan Royals came on ground to bat. As for opening batsmen of Rajasthan Royals, Jos Buttler and Devdutt Padikkal came on ground. However, Devdutt Padikkal departed back to the benches after 2 overs by hitting just 2 runs off 5 balls. Jos Buttler remained on ground till mid of 8th over. He smashed 22 runs off 25 deliveries. Moreover, Captain and wicket-keeper of Rajasthan Royals, Sanju Samson smashed 54 runs off 49 balls and acquired a half-century in the match. He maintains his strike rate of 110.20. 
Thus, Rajasthan Royals gave Knight Riders the target of 152 runs at the loss of 5 wickets. Then, Kolkata Knight Riders came on ground to bat. As for opening batsmen of Knight Riders, Aaron Finch and Baba Indrajith came. However, Aaron Finch was able to slam only 4 runs in 7 deliveries. As for Baba Indrajith (wicket-taker), he smashed 15 runs in 16 balls. Moreover, Nitish Rana became top scorer for Kolkata yesterday, as he smashed 48 runs off 37 balls.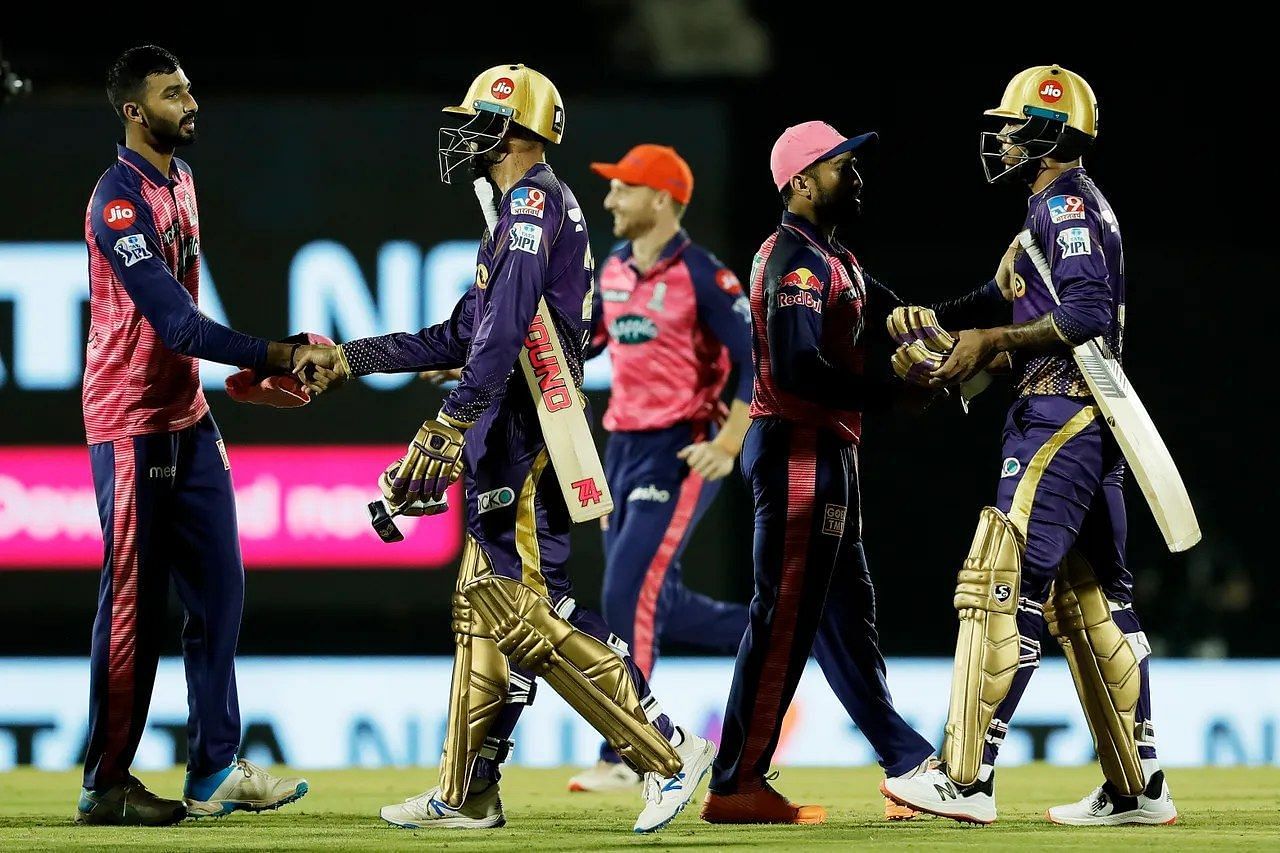 Points Update Of The Ongoing League: 
In the initial phase Rajasthan Royals were leading the points table in the league. However, Gujarat Titans took over the place of Rajasthan Royals. The Gujarat Titans team lead the point table with 16 points. So far, the team played 9 matches, out of the matches they played, they won 8 matches and faced defeat in a single match. Following Gujarat Titans, Lucknow SuperGiants acquired the 2nd spot on points table. They have earned 14 points in the league so far. They played 10 matches out of which they won 7 matches and lost 3 matches.
Currently, Rajasthan Royals acquired 3rd spot on the points table. They earned 12 points by playing 10 matches. Out of 10 matches they played, the team won 6 matches and lost 4 matches in the league. Following Rajasthan Royals, Sunrisers Hyderabad acquired 4th spot by accomplishing 10 points in the league. They played 9 matches so far, out of 9 matches, the team won 5 matches and lost 4 matches. Let's see which team will clear semi-finals and reach to final play offs.