IPL fans were in utter shock and frenzy over the past few days. The rumor that Gujarat Titans replaced Jason Roy with Suresh Raina set about a trend all over social media. But did Gujarat Titans sign in Suresh Raina as Jason Roy's replacement? Well, trusted sources confirm that the news was fake, being circulated by a fictitious Twitter profile called IPL. 
After Jason Roy pulled out of this year's IPL owing to bio-bubble difficulties, former India and CSK player Suresh Raina became a Twitter trending topic. Raina, dubbed Mr. IPL for his outstanding achievements for CSK throughout the years, went unsold in the IPL mega auction this year. The hashtags #SureshRaina and #GujaratTitans trended heavily on Twitter.
The whole thing started when a phoney Twitter account posted a modified photo of Suresh Raina. The twitter handle goes by the name of Tata IPL – Indian Premier League (@Tata IPL). According to the altered image, he was wearing a jersey with the Gujarat Titans' insignia.
"Gujarat Titan replaced Jason Roy by Suresh Raina for IPL2022. #GujaratTitans #SureshRaina," the post described.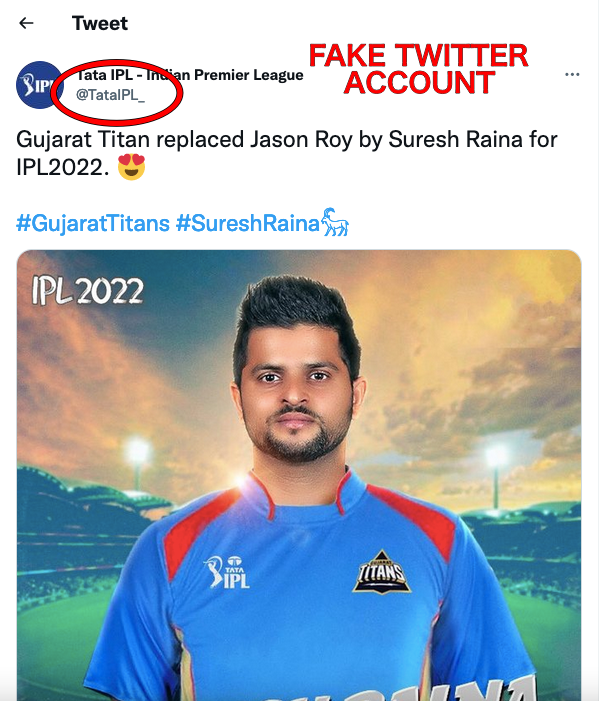 Suresh Raina in IPL
Suresh Raina, arguably India's best T20 batsman, burst onto the international scene as a youthful prodigy. As a batsman, he possessed the elegance, power, and fine temperament of a typical left-hander.
Raina was instrumental in the success of Chennai Super Kings. He exhibited a dashing left-hand style of play at No. 3. Consequently, it gave CSK the option of attacking at will with a lot of firepower left down the line. Raina's contribution is evident by the fact that he is currently the highest run-getter in IPL history (4985 runs). Among all of his IPL appearances, his blitzkrieg (87 runs off just 25 balls) against KXIP in Qualifier 2 in 2015 stands out.
Raina also bowls a very useful right-arm off spin that Dhoni frequently utilised when he needed to find breakthroughs. After CSK's two-year ban following the 2015 season, Raina captained the Gujarat Lions, a temporary franchise. He was one of three players retained by the franchise when it returned from its absence.
Why CSK let go of Suresh Raina
He was part of the title-winning CSK team In 2010, 2011, 2018, and 2021. When MS Dhoni was unavailable, he also led CSK in a couple of matches. However , there was deafening stillness as his name came up for bidding in the IPL 2022 mega auction. Even CSK did not raise a bid for the former India batter. As a result, while maintaining a basic price of INR 2 crores, he went unsold.
Kasi Viswanathan, CEO of CSK, revealed why they did not bid for Raina. "Raina has been one of the most consistent performers for CSK for the last 12 years. Of course, it was very difficult for us, not to have Raina but at the same time, you should also understand that the team composition depends on the form and kind of team which any team would like to have so that's one of the reasons why we thought he may not fit into this team."