Overview
Cricket fans watching TATA Indian Premier League (IPL) 2022 around the globe started tweeting to congratulate Rajasthan Royals. As we head towards the 5th match of the season SRH won the toss to bowl first. Both Rajasthan Royals and Sunrise Hyderabad delivered a remarkable performance.
Rajasthan Royals (RR) VS Sunrise Hyderabad (SRH): League Statistics
Sanju Samson led Rajasthan Royals nailed the win by 61 runs. The match was equally special for Yuzvendra Chahal. He made Romario Shepherd bite the dust by completing his 3-fer and 250th T20 wicket. In an easy play, he also took down Abhishek Sharma and Abdul Samad, bagging two more wickets. 
Afterward, Trent Boult joined the game and trapped Nicholas Pooran in front after some tight bowling. Next, on the line-up, Prasidh Krishna strikes early by removing Kiwi skipper Kane Williamson. In addition to that he also nailed a golden duck over his former KKR teammate.
Last but not least Shimron Hetmyer scored 32 runs off 13 balls to increase his team's score to a competitive total of 210 for 6. In the initial overs, Sanju Samson scored 55 runs setting the Maharashtra Cricket Association Stadium on fire. Soon the fire got put out by Bhuvneshwar Kumar's bowling skills. This happened right after Devdutt Padikkal's reign of 41 runs got stopped by Umran Malik, the outstanding performer of the day for Hyderabad in today's match.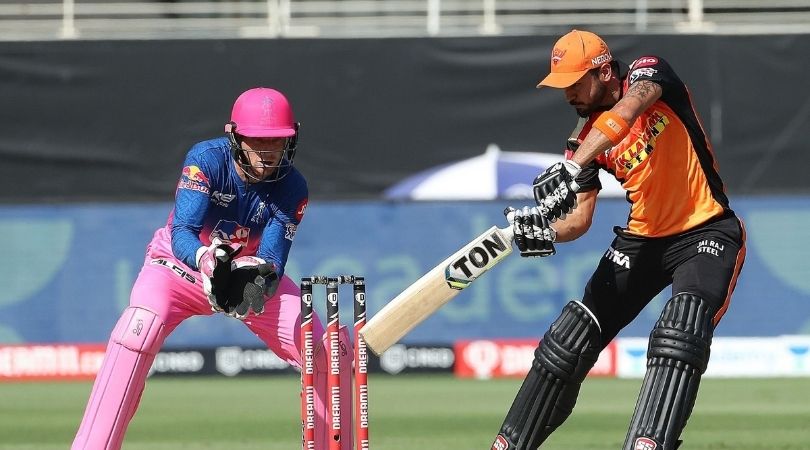 Although Sunrise Hyderabad was not able to play so well, after the first power play, they made a strong comeback. Hyderabad got rid of both the opening batsmen Yashasvi Jaiswal (20) and Jos Buttler (35) after the Rajasthan Royals marked the match with an absolute steering performance. On the other hand, Romario Shepherd took out Jaiswal. And Umran Malik, the stand-out performer of the day nailed a big wicket by getting rid of Buttler. Over the next six overs of the match, Sunrise Hyderabad tried to play all their cards and reached the final score of 194 runs for 7 wickets in 20 overs. In a shockingly dominant performance, Rajasthan Royals got their well-deserved win for the day.
EndNote:
Concluding a big night for the champions of Indian Premier League (IPL) 2008, Rajasthan Royals played the match outstandingly well. Not only was it a shocking moment for the team of Sunrise Hyderabad but also for Rajasthan Royals. Both the teams with all their sweat and blood tried to come on top. Unfortunately for Hyderabad, there are still several things to touch on and improve on as a team. Nevertheless, beating all the odds the team Rajasthan Royals came on top by winning the fifth match of TATA Indian Premier League (IPL) 2022.