Dinesh Karthik (born 1 June 1985) is a professional cricketer from India. In domestic cricket, he captains the Tamil Nadu Cricket Team, while in the Indian Premier League, he captains the Royal Challengers Bangalore. In 2004, he made his debut for the Indian cricket team. Karthik is the fourth Indian batsman to have played 300 T20 matches.
Dinesh Karthik was one of many wicketkeepers tried out by India prior to the advent of Mahendra Singh Dhoni during the Ganguly era of Indian cricket. Nonetheless, despite being in and out of the Indian team, he has done excellently behind the stumps as well as with the bat in the limited opportunities he has had.
Upbringing
Dinesh Karthik was born in Chennai, Tamil Nadu, to a Telugu family. After residing in Kuwait for two years, he began playing cricket at the age of ten. His father, a first-division cricketer from Chennai, coached him in cricket.
Name
Dinesh Karthik
Nick Name
DK
Date of Birth
1 June 1985
Age (as of 2022)
37 years
Birthplace
Tiruchendur, Thoothukudi, Tamil Nadu, India
Father Name
Krishnakumar (worked as System Analyst)
Mother Name
Padma (worked in ONGC)
Brother Name
Vinesh
Wife Name
First Wife: Nikita Vanjara (m. 2007-div. 2012)
Second Wife: Dipika Pallikal (m. 2015-Present)
Children Name
Kabir & Zian (Twins Boys)
Debut
Test: vs Australia, Wankhede Stadium, (03 Nov 2004)
ODI: vs England, Lord's (05 Sept 2004)
T20I: vs South Africa, The Wanderers Stadium (01 Dec 2006)
IPL Debut
vs Rajasthan Royals, Arun Jaitley Stadium (19 Apr 2008)
Batting Style
Right Handed Bat
Total Net Worth
₹58 crores (approx in 2022)
Karthik trained his reflexes as a child by having his father toss hard leather balls at him at fast speeds. He began as a batsman and then studied wicket-keeping on the Tamil Nadu youth teams, and Robin Singh thought he was exceptionally fit.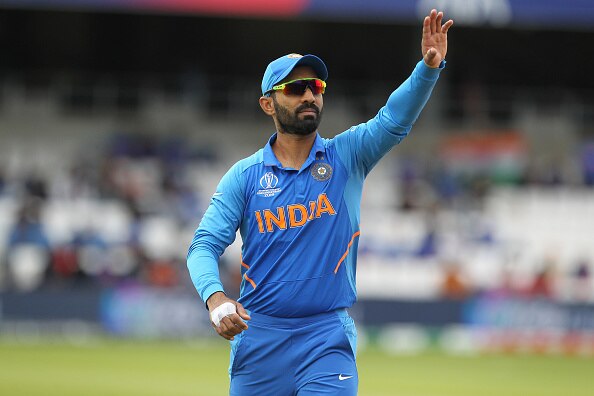 Domestic Career
Dinesh Karthik steadily rose through the ranks of the youngsters. In early 1999, he made his Tamil Nadu under-14 debut, and he was promoted to the under-19 side at the start of the 2000/2001 season.
Karthik began to make the selectors' shortlist following a streak of centuries for the Tamil Nadu Under-19 side in the 2002/03 season, having progressed through the ranks in age-group cricket.
Dinesh Karthik made his first-class debut as a wicket-keeper against Baroda in late 2002. He batted in five round-robin matches, amassing 179 runs including a top score of 88 not out against Uttar Pradesh in his second match.
Karthik was snubbed for the zonal Duleep Trophy, however, he did play for South Zone under-19s. He was chosen for the national under-19 team and appeared in three ODIs against Nepal.
Karthik was picked up to the Ranji Trophy squad at the start of the 2003–04 season. He scored 438 runs, including two century, and caught 20 balls. Karthik was selected for India's Under-19 Cricket World Cup squad in Bangladesh in 2004, and he made two half-centuries during an India A tour to Zimbabwe.
Dinesh Karthik drew significant attention when he made his ODI debut for India as a 19-year-old in late 2004. Since then, the fuzzy picture of an airborne Karthik leaping horizontally to stump Michael Vaughan at Lord's has been entrenched in the minds of current Indian cricket fans.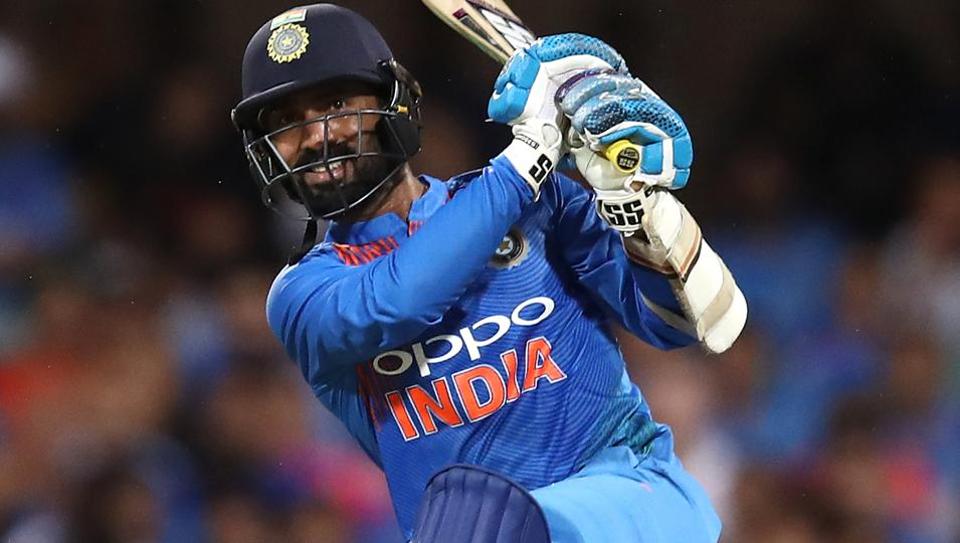 In The National Team
Dinesh Karthik made his Test debut against Australia in the fourth Test in Mumbai in October 2004, replacing Parthiv Patel. He scored 14 runs and made two catches in two innings, but he was complimented for his wicket-keeping on a surface with varying bounce and spin that yielded 40 wickets in two days.
In late 2004, Dinesh Karthik made his Test debut against Australia on a minefield of a track in Mumbai. However, a succession of low scores paved the way for other keeper-batsmen to emerge on the outside. Karthik returned to the side as a pure batsman with the emergence of Mahendra Singh Dhoni.
Karthik took three catches in the 2004 ICC Champions Trophy against Kenya before being replaced on the ODI team by MS Dhoni. He did not play another ODI until April 2006. He had his best Test batting effort to date against Pakistan at Eden Gardens in Kolkata. In the second innings, Karthik and Rahul Dravid combined for a crucial 166-run partnership that handed India a 196-run victory.
However, he was unable to unseat Dhoni for the wicketkeeping post. The pinnacle of his career came when Karthik took over as opener for Sehwag on the 2007 tour of England. He concluded the Test series as India's highest run-getter, playing a significant part in handing India an elusive away series win.
A guy who was instrumental in a Test series triumph over England in 2007, demonstrating his ability to open the batting in hot circumstances, was unable to capitalise on his second opportunities.
The fans then saw him enter and exit the final squad, never actually claiming a firm position. He sometimes replaced Dhoni as wicket keeper in the test and ODI squads.
After a strong domestic season and IPL performance, Karthik was called up to the Indian ODI team for the 2013 ICC Champions Trophy. He got back-to-back century in the two warm-up games, clinching his spot on the tournament team. He was picked to India's squad for the 2019 Cricket World Cup in April 2019. Karthik made his 150th appearance for India in a match against Sri Lanka on July 6.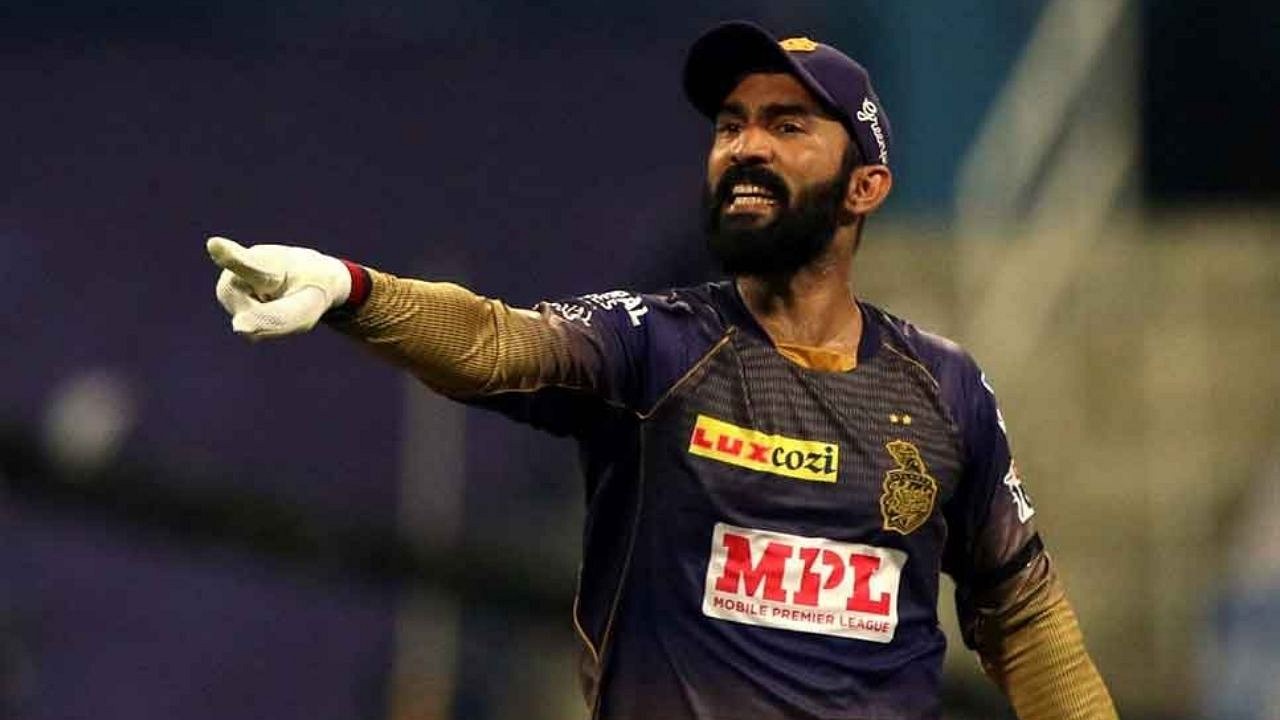 IPL
Dinesh Karthik's difficulty to break through on the outskirts had little influence on his IPL career, as he was selected by Delhi Daredevils for the inaugural edition of the IPL for about 2.4 crores (525,000 USD).
However, he could not deliver a breakthrough performance. In the later editions of the tournament, he transferred to Kings XI Punjab and then to Mumbai Indian. Dinesh's breakthrough year came in 2013, when he scored 510 runs in 19 innings for Mumbai.
However, 2018 brought positive news and great form for Dinesh Karthik. He was selected to captain KKR and was purchased for 7.4 crores ahead of the 2018 IPL. Karthik took on the role of finisher for his team and delivered with some strong scores down the order.