Rohit Gurunath Sharma (born 30 April 1987) is an Indian cricketer who is now the captain of his country's national squad. He is a right-handed opening batsman who also bowls right-arm off break for Mumbai in domestic cricket. Rohit Sharma had a long time to establish himself as a permanent member of the Indian team. However, he's been the opening batter in limited-overs matches since 2013.
Emerging Talent
Rohit Sharma's greatest gift proved to be his greatest burden for much of his career. Harsha Bhogle talked about rumours on the local circuit, about coaches and scouts noticing a Mumbai teenager's easy, free-flowing stroke-play. He rose to prominence after a fast unbeaten triple-hundred at the Ranji level, after cruising through first-class cricket with an average far above 50.
Debut
At the age of 20, Rohit made his ODI debut in 2007, and later that year, he played his maiden T20I. After an injury to an in-form Yuvraj Singh in the 2007 World T20, Rohit was called upon as a last-minute replacement to play a league game against the hosts. The 20-year-old went out into Kingsmead and stroked his way to a slick half-century.
He faced bowlers the likes of Pollock, Ntini, and Morkel as if he were enjoying a net session after a sluggish start to the Indian innings. He displayed remarkable maturity under duress to see out the innings, guiding India to a solid score that they eventually defended, eliminating South Africa from the competition in their own land.
Rohit Sharma was tipped as the long-awaited successor to the Great Sachin Tendulkar at number four in the Test batting order. After all, he had a lot of time to play his shots, he had smooth stroke-making ability even when playing at a fast speed, and he had a large repertoire of shots.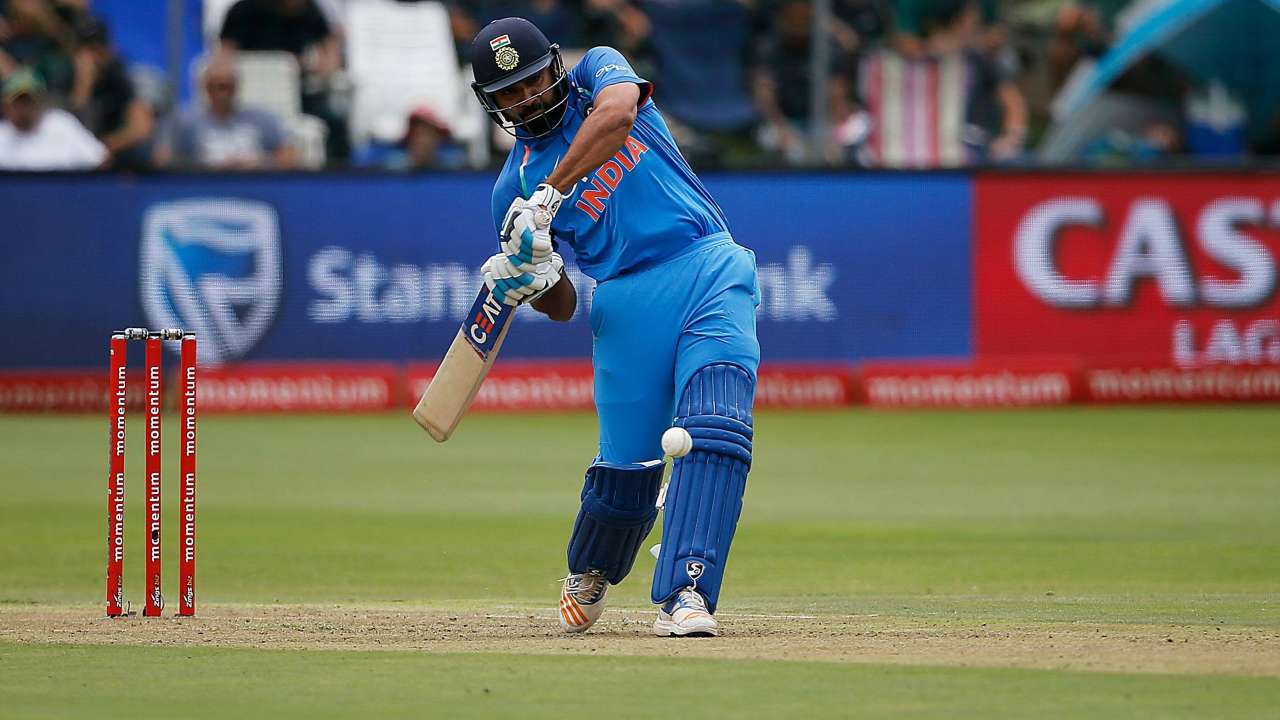 Making A Name
Following his burst of crucial performances in the World T20 and his strong Ranji Trophy record, Rohit was selected for the ODI team on a whim. In the CB series in Australia, he made an impression, making some key cameos against veterans like Brett Lee and Stuart Clark, as well as a more-than-capable Sri Lankan attack. The selectors took notice of his inspirational away performances in the World T20 and the CB series, and he was given a longer run with the limited-overs side.
Rohit continued to float in and out of the Indian eleven, unable to cement his place in the team. In 2010, he was named to the playing XI for the Nagpur Test against South Africa, but he was tragically injured in a pre-match football game. In a heartbreaking turn of events, he was subsequently ruled out of the series and would not have another chance to prove his Test credentials for another four years.
Rohit was recalled to the ODI squad for the West Indies tour, where he produced three half-centuries in five games. He disappointed supporters, however, with a streak of low scores in the CB series in Australia, as well as a disastrous tour of Sri Lanka, when he scored 14 runs in five innings, including two ducks.
Sharma smashed ODI double-hundreds for pleasure, won five IPL titles in the first 12 editions, hit five hundreds at the 2019 ODI World Cup, and when he finally got to open in Tests in 2019, he blasted three rapid hundreds in his maiden series, one of which was a double. Sharma went on to become one of the all-time great six-hitters. People began to expect a double-century every time he went over 50 since his acceleration was so amazing and certain.
Along the way, he received accolades for his captaincy of the Mumbai Indians, whom he led to four titles. He was meticulous, studious, and composed, making conclusions based on all available technology and facts. In international cricket, he was an effective deputy to Virat Kohli in limited-overs forms, winning two title.
Criticism
He struggled to solidify his place in the side due to inconsistency and a habit of giving away his wicket. Critics said that he had too many shots for the same ball, implying that shot selection was becoming a problem for him.
In addition, some experts noted that he struggled with the short ball because his stance was too side-on and he lacked back-and-across trigger movement. With a batting average of 22 and a succession of low scores and unconverted starts, he was unable to secure a place in the squad for the 2011 Cricket World Cup.
IPL
Rohit Sharma may thank the Indian Premier League for keeping him in the picture and not discarding him like so many other young and brilliant cricketers who broke onto the national scene but failed to make it big at the highest level.
His performance for the Deccan Chargers in the first two years of the IPL stood out, as he scored over 350 runs each time and demonstrated his worth to his organisation. In 2011, he was shifted to the Mumbai Indians club and has since shown to be one of their most reliable batsmen.
Sharma'a Achievements
Sharma is the only player to have hit three double-centuries in one-day internationals and holds the global record for the greatest individual score (264) in a one-day international match. He was named the ICC Men's ODI Cricketer of the Year in 2019 after scoring five centuries at the World Cup. Sharma has won two national awards: the Arjuna Award in 2015 and the Major Dhyan Chand Khel Ratna in 2020.
Takeaway
Sharma rose from the suburbs of Mumbai to become the heir apparent to the batting greats of the 2000s. His IPL team called him "Hitman" despite the fact that he was anything but a hitman: he was more of a caresser than a hitter. He took time and perseverance to develop into the double-hundred machine and IPL-winning wonder that he is now.