Abhinav Mukund is an Indian cricketer who represents Tamil Nadu in domestic cricket. He was born on January 6, 1990. He has appeared in seven Test matches for India. On multiple occasions, he has captained Tamil Nadu and India A. In the IPL, he played for Chennai Super Kings and Royal Challengers Bangalore.
Early Career
Abhinav Mukund is a swashbuckling off-spinner with a knack for huge runs. He followed the traditional path to Test cricket by playing in the Ranji Trophy and other domestic first-class competitions. Mukund lit up his first games in Ranji and Irani cricket with smooth hundreds as a bright teenager, demonstrating right away that he belongs at the highest level of cricket.
He had a triple-century, hundreds on Ranji and Irani Trophy debuts, and a quadruple-century opening stand for his state team with fellow India Test opener M Vijay before turning 20.
Abhinav Mukund made news when he and fellow Test opener Murali Vijay shared a memorable quadruple-century opening stand for Tamil Nadu. Mukund had started off with a little weak on-side game, with a tendency to get cross-batted with the glance and his head dropping over to the off-side, but his appetite for runs and aptitude for getting stuck at the crease and scoring regularly big was tough for the selectors to overlook.
In 2008, he was a member of Virat Kohli's India Under-19 team. However he struggled with the bat due to poor form and did not play. However, he continued to score runs in domestic cricket and established a reputation in the longer format.
Abhinav, a batsman who exhibited some weakness in his on-side game in his early seasons, often playing around the front pad, has gone on to hit runs in large quantities, consistently.
After struggling during the U-19 World Cup, he bounced back to score a triple-hundred in Ranji cricket, demonstrating his enormous mental power and batting talent. Abhinav averaged 60 in four seasons of first-class cricket and was selected to open for India after both Virender Sehwag and Gautam Gambhir were injured prior to India's 2011 trip of the West Indies.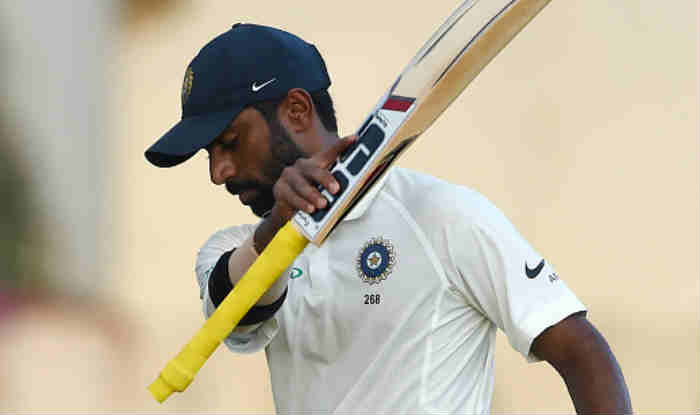 BREAKTHROUGH
Abhinav Mukund earned his Test cap during India's post-World Cup tour to the Caribbean islands, when regular openers Virender Sehwag and Gautam Gambhir were rested. Mukund only had one fifty in the three Tests he played in the Caribbean, but he displayed maturity beyond his years and appeared at ease at the crease.
After a few solid performances in the Test series, he was named to the England squad as the reserve opener for the next tour Mukund scored 49 in the Lord's Test, but was bowled out by the laterally moving ball in the three innings that followed, and battled to the point where Virender Sehwag was reinstated for the third Test before fully recovering from his shoulder ailment.
Abhinav was not selected for Tests after that tour, but he returned to represent India A on multiple occasions. He scored 849 runs in the 2016-17 Ranji Trophy season, including four hundreds. Abhinav became India's first-choice reserve opener in Tests after being named as back-up for the country's first home Test against Bangladesh in February 2017.
He had to wait until the March Test against Australia in Bengaluru to return, but a succession of injuries to India's openers on the Sri Lanka tour forced him to play in the first Test in Galle. In the game's second innings, he scored 81, his greatest Test score to date.
Accomplishments
At the age of 25, Abhinav made his 100th first-class appearance against Baroda on October 1, 2015.
Abhinav was selected as the key opener for the Albert TUTI Patriots squad in the first Tamil Nadu Premier League Tournament in September 2016. The Patriots went on to win the tournament, with Abhinav top scoring with 82 not out in the final.
Abhinav was selected for one of India's test matches against Bangladesh, which began on February 9, 2017. Abhinav was a member of the Indian test squad during Australia's February/March 2017 tour to India. In the absence of Murali Vijay, he played a test match against them in Bengaluru.
Abhinav has captained the Tamil Nadu Ranji Trophy team in the past.
He was selected captain of the India Red squad for the 2018–19 Duleep Trophy in July 2018. With 560 runs in nine matches in the 2018–19 Vijay Hazare Trophy, he was the leading run-scorer. He was picked to India C's squad for the 2018–19 Deodhar Trophy in October 2018.
In the IPL, he played for Chennai Super Kings and Royal Challengers Bangalore.