Yuvraj Singh is a former Indian International cricketer who has played all formats of cricket. He is known for his all-round ability and his greatly aggressive batting style. Singh was born on 12 December 1981, in Punjab. In his entire career he has won 7 Player of the Series awards.
He used to bowl slow left-arm orthodox.
Yuvraj played for the Indian National team for the One Day format from 2000 to 2017.
He made it to the vice-captaincy of the team between 2007 and 2008.
Yuvraj Singh got famously known for smashing 6 sixes in a single over. He hit these sixes against Stuart Broad, during a World T20 match
Personal Life
Yuvraj Singh was born in a Sikh family. Tennis and Roller skating were his favorite sports.
Yuvraj studied at the DAV Public School, Chandigarh. After that, he went on to complete his graduation from DAV College, Panjab University, Chandigarh.
He did two short roles as a child star as well- Mehndi Sagna Di and Putt Sardara.
Yuvraj Singh got engaged to Hazel Keech in 2015. Then, he finally tied the knot with her in November 2016.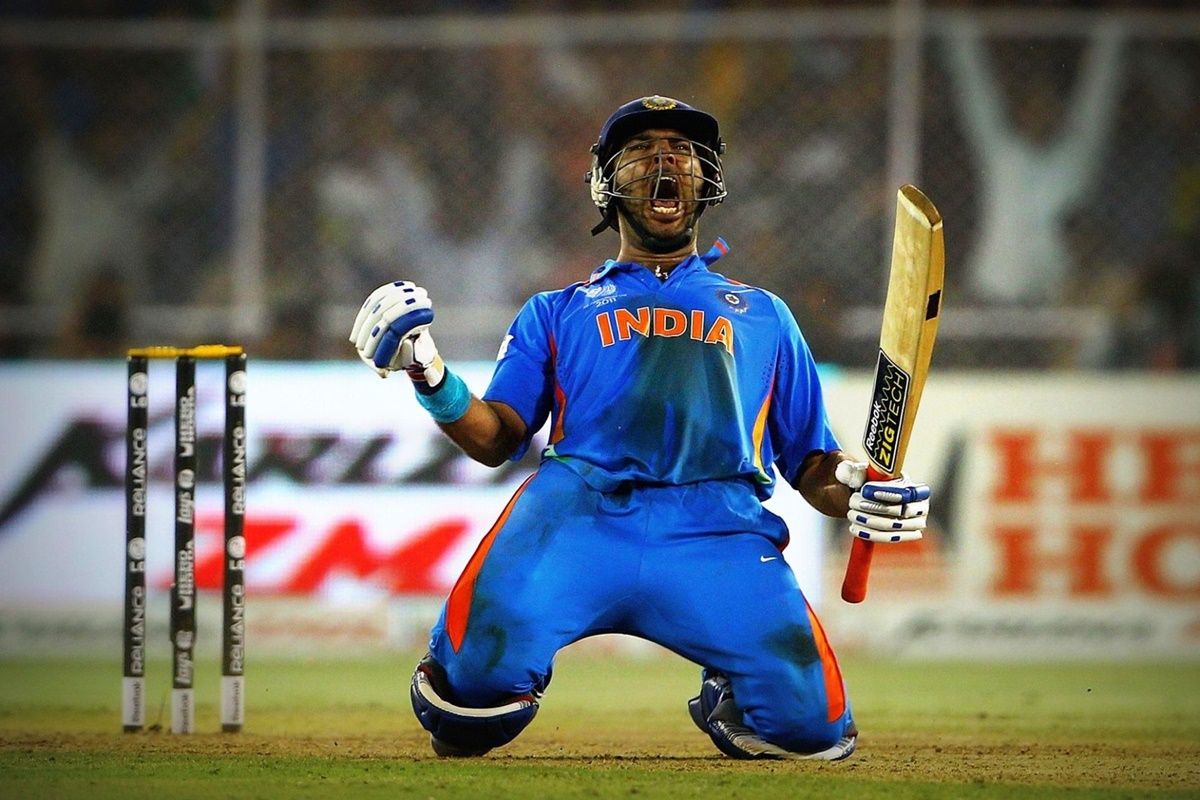 Career
Yuvraj had the start of his career with Punjab Under-16s. At that time, he was merely 13 years of age. Yuvraj received the promotion to the Punjab Under-19 team in 1996-97. He scored 137 not-out against HImachal Pradesh Under-19s.
Yuvraj Singh made his first-class debut against Orissa during the Ranji Trophy.
His recognition to the cricket world came after scoring a massive 358 in a match against Bihar.
He had an overall spectacular performance in his Ranji career.
In the year 2000, India won the Under-19 world cup. It was under the captaincy of Mohammad Kaif. Yuvraj's all-round performance got him the Player of the Tournament award. He later was called on to the national squad. At the same time, he got selected into the National Cricket Academy, Bangalore.
Yuvraj Singh made it in the national squad for the 2000 ICC KnockOut Trophy.
He finally made his international debut against Kenya. He did not perform that well in the tournament. So, he was dropped from the team.
He came back in the 2001 Coca-Cola Cup in Sri Lanka. Singh scored a much needed 98* of an otherwise disappointing batting performance by the squad. Yuvraj proved useful with the ball as he took 8 wickets at an average of 27 runs.
Yuvraj Singh made his domestic comeback in 2002. With not much of an impressive performance in the start, he redeemed himself against a match with Zimbabwe, with India already trailing.
The 2011 World Cup
Ahh! The ICC 2011 World Cup. No Indian can forget about that.
Yuvraj Singh in particular was having a ball in the tournament. He scored 363 runs in total, with one century and four fifties. Furthermore, he took 15 wickets and won 4 Man of the Match awards as well.
Yuvraj was facing respiratory difficulties all through 2011. He battled them during the world cup, but had to withdraw from the ODI in the West Indies. He played against England later, but came home with a broken finger.
Singh withdrew from the ODI series again in November, due to an abnormal tumor in his lung.
After the conclusion of the World Cup he was diagnosed with a Stage-1 tumor cancer in his left lung. Yuvraj underwent chemotherapy at the Cancer Research Institute in Boston, United States and at the Indiana University Melvin & Bren Simon Cancer Center in Indianapolis, Indiana where he was under observation  by famed oncologist Dr. Lawrence Einhorn.
IPL Career
Yuvraj was the captain of the Kings XI Punjab side in the first two seasons of the IPL. He was an absolute powerhouse for the franchise.
In 2011, he joined the Pune Warriors and was made captain.
Due to his medical condition, he was absent from the squad for two seasons.
He made his IPL comeback in 2014 by Royal Challengers Bangalore. It was the highest ever IPL purchase. Yuvraj was fabulous with the Challengers side. He scored 376 runs and took six wickets.
In the 2015 season, he got purchased by Delhi Daredevils. They surpassed the Royal Challengers Bangalore, with a record bid of Rs. 16 crores.
He also played for Sunrisers Hyderabad in 2016 and later was retained by Kings XI in 2018.
Yuvraj played his final IPL matches with the Mumbai Indian side. He joined the team for a base price of Rs. 1 crore.
He was not able to perform in the tournament. As a result, he was dropped from the team ahead of the 2020 IPL auction.
Announcing Retirement
On June 10 2019, Yuvraj Singh announced his retirement from international cricket.
During a press conference in Mumbai, he announced his retirement from all formats of the game.
In that press conference he said,
"I would say I am extremely lucky to play 400-plus games for India. I would've not imagined doing this when I started my career in cricket. Through this journey, some matches that remain in my memory are – the 2002 NatWest series final, my first Test hundred in Lahore in 2004, the 2007 Test series in England, of course the six sixes and the 2007 T20 World Cup. And then the most memorable one was the 2011 World Cup finals."
"And then, probably the worst day in my career, was the 2014 World T20 final against Lanka where I scored 11 off 21 balls. It was so shattering that I felt my career was over."
Where Is He Now?
On November 2, 2021, Yuvraj took to his Instagram to announce a possible comeback to T20 cricket in February. He wrote:
"God decides your destiny !!On public demand il be back on the pitch hopefully in February ! Ain't nothing like this feeling ! Thank you for your love and wishes ❤️ mean a lot to me ! Keep supporting 🇮🇳 it's our team and a true fan will show his or her
support in tough times 👊🏽"
However, he tried to come back to the Punjab squad in 2020, but could not, as the board denied it.
During his retirement period he was playing foriegn franchise cricket in the GT20 league and the Arab A10 league.
All of the cricket fans now are surely stoked to hear about the possible return of the power-hitter to the game.